History
In 1936 Beverly and Ruby Osborne were driving west from Oklahoma to California. They had no reason to be joyful. They were middle aged and the Depression had wiped out their savings.
On this particular afternoon it seemed that everyone in the state was attempting to  escape the famine of the Oklahoma dust bowl. With not much more than their meager belongings and a basket of fried chicken, Beverly Osborne coaxed his Ford pickup across the barren prairie. Suddenly, a bump in the rutted road scattered the chicken and basket. Picking it up, Rubye complained "this is really Chicken in the Rough®." With that chance remark, a fortune was born. Beverly turned his truck around and headed back home.
A man who, on instinct, had made a modest fortune and lost it - Beverly reasoned that "fingers were made before forks" and that chicken could be a cheap source of food at a time when incomes were sparse. Beverly learned from his previous business experience and failures that every business must provide customer satisfaction by identifying customers' needs and how to satisfy those needs better than anyone else. Soon, with the money he had received from the sale of his wife's wedding ring, he had an operation serving fried chicken with shoestring potatoes, hot biscuits and honey. That was the delectable meal that started "Fast Food - Fried Chicken Franchising" - long before McDonald's or Kentucky Fried Chicken.   .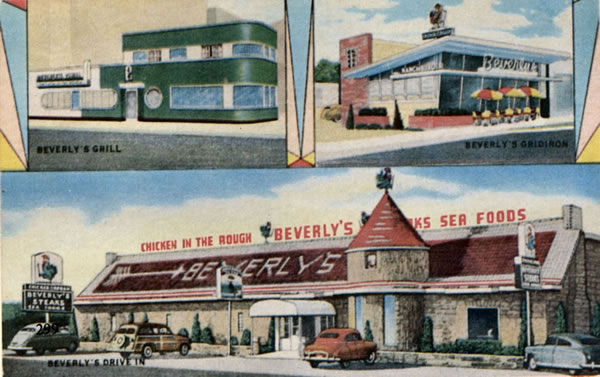 By 1950, when Time magazine ran a feature article on the Chicken in the Rough® operation, Beverly and Rubye Osborne were grossing almost two million dollars per year, had sold 335 million orders of Chicken in the Rough® and had created 250 franchised outlets including some as far as Johannesburg, South Africa. Throughout his lifetime, Beverly Osborne held onto his strong belief that "in business, the product is the vehicle that is used to implement a strategy for creating a good idea."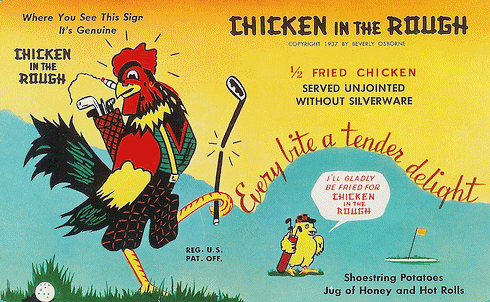 Beverly Osborne realized that every entrepreneur needs a product or service that makes his/her business better by being different or unique. Due to his strong ideals, his belief in himself, and a "bump in the road," Beverly reasoned that fried chicken could be a great marketing and merchandising item for all types of food service operations. Thus, he created Chicken in the Rough® and the rest became history.
Beverly Osborne created attractive and colorful point of purchase items that are currently used to develop "Fried Chicken Brand Interest"™ in Chicken in the Rough®. He understoodthe importance of developing customer interest and recall through the use of colorful logos and trademarks, while creating a unique food product carefully prepared. The primary goal and purpose of Chicken in the Rough® was to increase an independent's business and value through a specialized franchise marketing plan that could be leased to an independent food service operator, while retaining his/her independence. The only agreement is a mutual commitment to market fried chicken the "Chicken in the Rough®" way.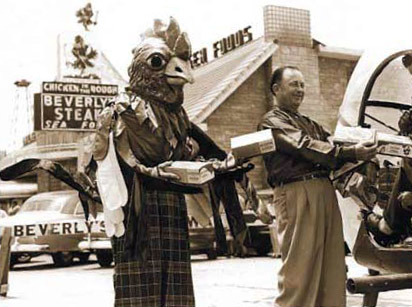 In memory of the role that Raymond Carroll (the first and most successful person to sell and market the franchise)
had played in the growth of the fried chicken concept, sons Ray and Jack Carroll, and Jack's wife Marian purchased the Chicken in the Rough® rights from Beverly Osborne, its founder. Beverly was a reluctant seller, but he did desire to see the name "Chicken in the Rough®" continue.